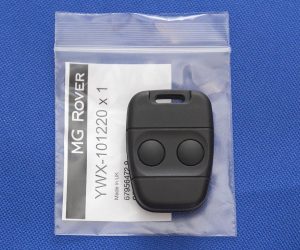 Hello there, welcome to my 'Buy it now' auction for a remote key fob "Lucas 3TXD / 17TN".
Lucas remote key fob 3TXD / 17TN for Rover MPI Mini and other 5AS Alarm ECU cars
(PS, I'm not responsible for the other listings that have stolen this description, apologies, but those other listings are using my information, and my feedback to sell, on the most part, unrepaired items. They may be cheaper, but they probably don't work very well. I guarantee all my products and my work.)
As a show of faith, I have now reduced the price to £20
So, back by popular demand, this time, up for sale are some refurbished 3TXD or 17TN key fobs.
These have been professionally serviced and repaired, any problems such as the switches or dry joints have been rectified. They have then been rigourously tested.
These are backwards compatible with Lucas 3TXB and Lucas 3TXA systems. They come supplied with 3TXB cases, however this makes no difference to the usability of the item.
Also, these are the best key fobs to go for, as they don't have the problem with the earlier crystals breaking free and causing the key fob to stop working.
According to the Rover database these key fobs work with-
Rover Mini with 5AS immobiliser
Rover 100 1994 – onward
Rover 200 1994 – 2000
Rover 25 2000 – 2003
Rover 400 1994 – 2000
Rover 45 2000 – 2003
MGF 1996 – 2000
MG TF 2000 – 2002
MG ZR 2000 – 2002
MG ZS 2000 – 2002
Freelander 1997 – 2006
Land Rover Discovery 1995 – 2000
I have fitted new lithium batteries in all of these, To err on the side of caution, and to make sure that you have the best signal strength you can.
I also individually test each key fob, before it goes out with an oscilloscope (video here https://youtu.be/U3FgsCnapuA ) to show the signal is being broadcast by the key fobs.
To program these to your car, I suggest getting in touch with your local Rover club, possibly the local Mini club, or clubs that deal with your car that use these types of Lucas key fobs. They will most likely have a member that owns a programmer that will enable you to register the new fob to your car.
Please make sure that this item is compatible with your car before purchasing.
I went in a different direction, and bought myself a programmer and suitable leads to plug into the car, partially because I wanted to see what the car was doing, and to run diagnostics on it as well, plus I also like to be able to do things myself.
If you wanted to go down this route you will need a 5AS Alarm ECU Programming Cable and a T300+ Key programmer. These can both be found on eBay and the Internet.
So bear in mind, that this key fob will not work automatically with your car when you initially get it. It will be necessary to program it to your car. On my Rover Mini I had slots for 3 key fobs, so I programmed in three on each of them and put the spare ones safely away for backup.
You will receive one "refurbished" key fob with a fresh battery fitted. Please note, since these are coming up to 20 years old I'm afraid there are no returns on these items. However if you have any problems do not hesitate to contact me.
P.s. If you are able to travel to the Plymouth area, I will be happy to program this key fob to your car free of charge. P.p.s, please make sure that you have a programming socket on your car, thanks.